Manuka Honey with Fresh Royal Jelly Stick Type (5g × 90sticks)
Extra Promotion!
Synergistic powers of manuka and royal jelly!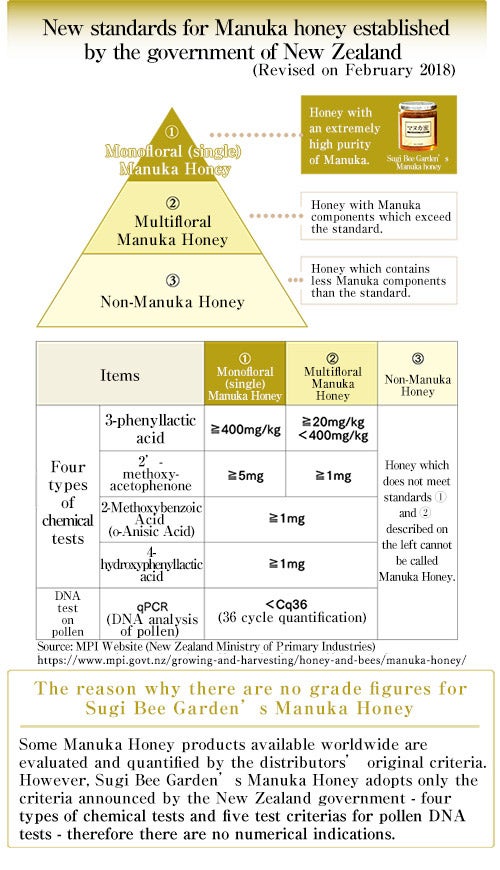 Manuka Honey with Fresh Royal Jelly is Sugi Bee Garden's original product, which has a combination of the miraculous honey, manuka honey and the queen of healthy foods, royal jelly.
Royal jelly contains decenoic acid, which is a unique component of royal jelly, and about 40 kinds of nutrition such as the substance similar to parotin called the youth hormone, in a balanced manner.
Please take advantage of the rich combination of manuka honey and royal jelly, in which we have massive confidence, in order to keep your youth.
Precautions
*Colors and Flavors of Honey may differ by the locality and season.
*Pure honey might crystalize depending on its type of flower and the temperature of storage. The phenomenon does not affect the quality. The white crystal is also enjoyable. Please be at ease and enjoy the natural flavor. If you prefer to taste smooth honey, please take the amount needed and water-bath it in 40-42 degree hot water.
*The actual product might have a different color from the product photo. Label design might change but content remains the same.
*Honey is a natural product. Please do not feed to infants below 1 year old.
*Best before: 12 months from production
Ingredients
HONEY (MADE IN NEW ZEALAND), RAW ROYAL JELLY(MADE IN TAIWAN)
Nutrition facts
Nutrition facts (per 100 g):
Energy 327kcal, Protein 0.8g , Fat 0g, Carbohydrates 80.9g, Sodium 2.7g(salt equivalent 0.01g)
Allergy Information
N/A
*Please check ingredients. If you have food allergies or asthma, please do not take this products.
- RELATED ITEM -
Related items
alert_msg