A luxurious item of Six-year-old Root Ginseng and Royal Jelly!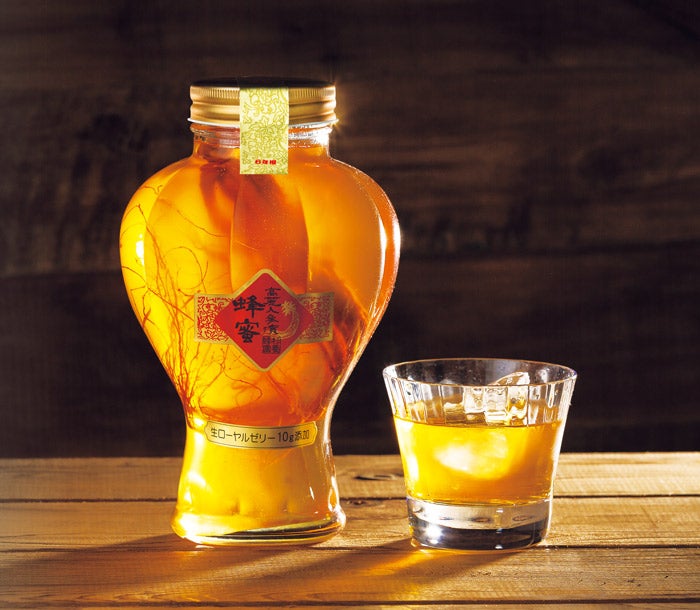 *Refrigerate after opening.
*Apple Vinegar is used for this product to retain the quality.
*Pure honey might crystalize depending on its type of flower and the temperature of storage. The phenomenon does not affect the quality.
The white crystal is also enjoyable.
Please be at ease and enjoy the natural flavor. If you prefer to taste smooth honey, please take the amount needed and water-bath it in 40-42 degree hot water.
*The actual product might have a different color from the product photo. Label design might change but content remains the same.
*Best before: 12 months from production
*Please do not feed to infants below 1 year old.
*Please check ingredients and avoid taking if you have asthma, food allergies, or other allergies.
*Sediment may form, but this is not a quality problem. Shake well before use.
*Honey may crystallize.
*Please be careful that if the container or cap is impacted or laid on its side for storage, it may cause damage or leakage of honey.
* Please clean the mouth of the jar properly before you close the lid. The honey around the mouth of the jar may harden and may become difficult to open.
*Thank you for your understanding that we do not accept any returns after the expiration date or after opening the product.
*Please follow your municipal's guidelines on waste segregation when throwing it out.
Ingredients
Refined honey (manufactured in Japan), Honey, Apple vinegar, Ginseng, Raw royal jelly
Nutrition facts
Nutrition facts (per 100 g):\
Energy:296kcal, Protein:0.3g , Fat:0.3g, Carbohydrates:73.4g, Sodium:9mg (Salt equivalent:0.02g)
Allergy Information
Apple
*Please refer ingredients. If you have food allergies or asthma, please do not use this product.
- RELATED ITEM -
Related items
alert_msg