Shopping guide
1.Select the quantity and add to shopping cart
Firstly, select the quantity in the "quantity" column of the product page you would like to purchase.Once the quantity is selected, click the "add to cart" button.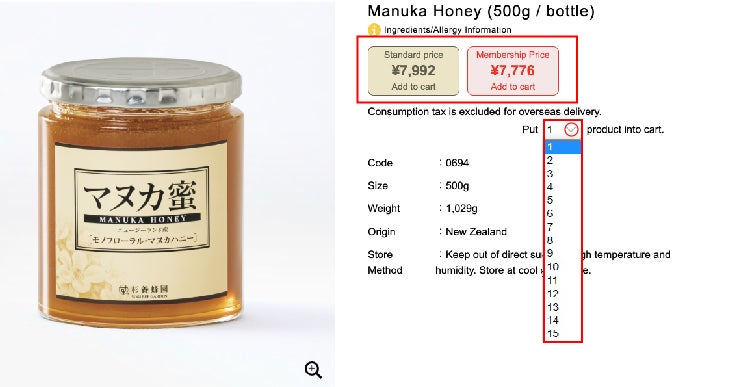 ※Sugi Bee Garden members can enjoy member pricing when shopping.
For more information on new member benefits, please refer to First time customers.
2.Member Registration and Login
On product page, click【Add to cart】 button with the price indicated. A pop-up window as followed will display. Register through the pop-up window, or log in if you are already a member. Shopping without membership registration is possible, and orders will be placed at regular prices.

Please fill in you personal information. Make sure all the items with [Required] is filled. After registration or login, you will be redirected to the page you accessed before the registration.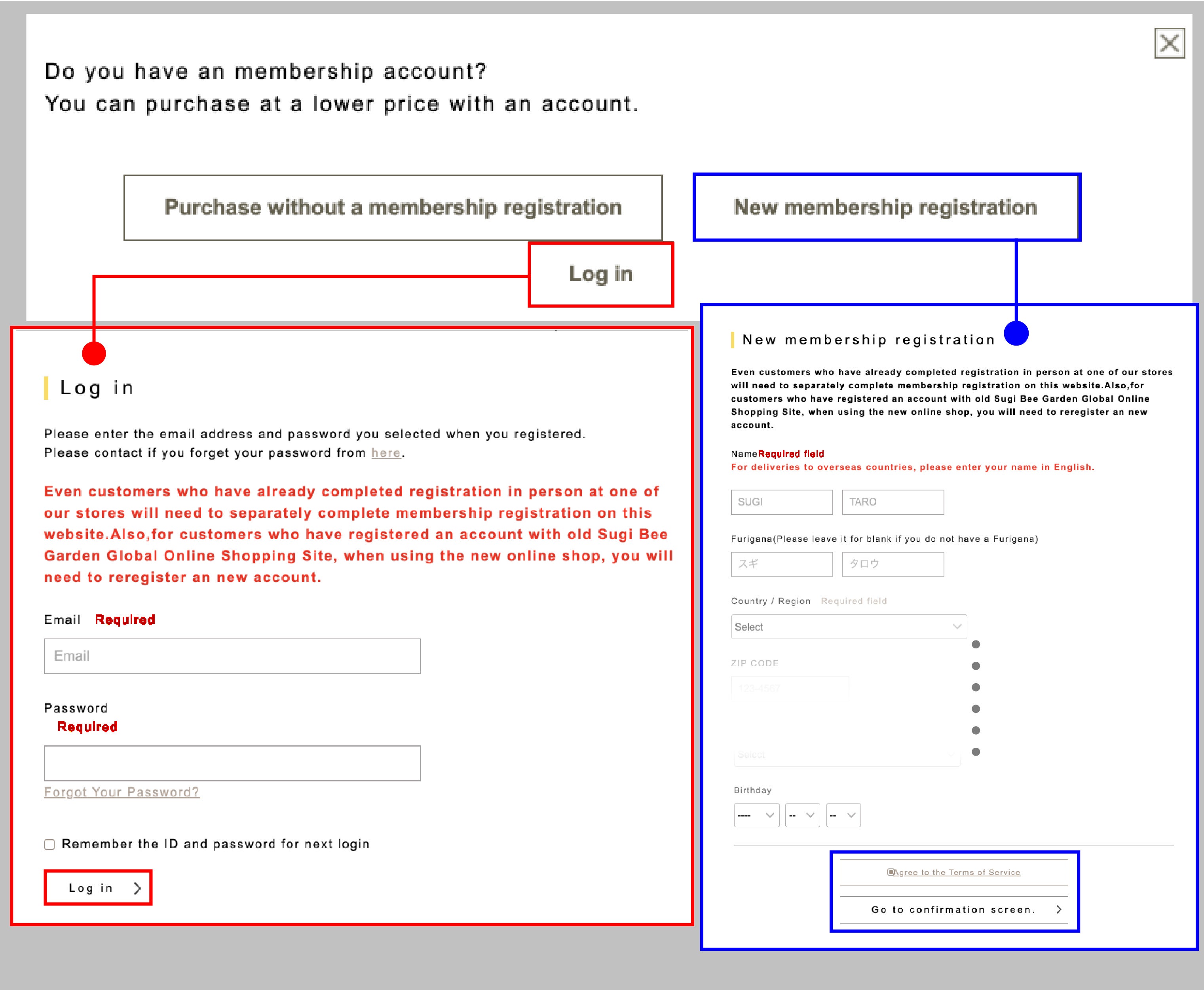 3.Adjust Item Quantities in Shopping Cart
To check the contents in shopping cart, click on the cart symbol in the upper right corner of the screen.
To change the quantity of your order, change the number in [Quantity] and press [Recalculate].

To remove an item from your shopping cart, please press the 【Delete×】 button on the right side of the item in question.

Enter your "Appy Code" if you have one.

If you need to purchase other products, click the [Continue shopping] at the left-bottom corner. You will be redirected to the page you accessed the moment before. To checkout without purchasing additional items, click the "checkout" button.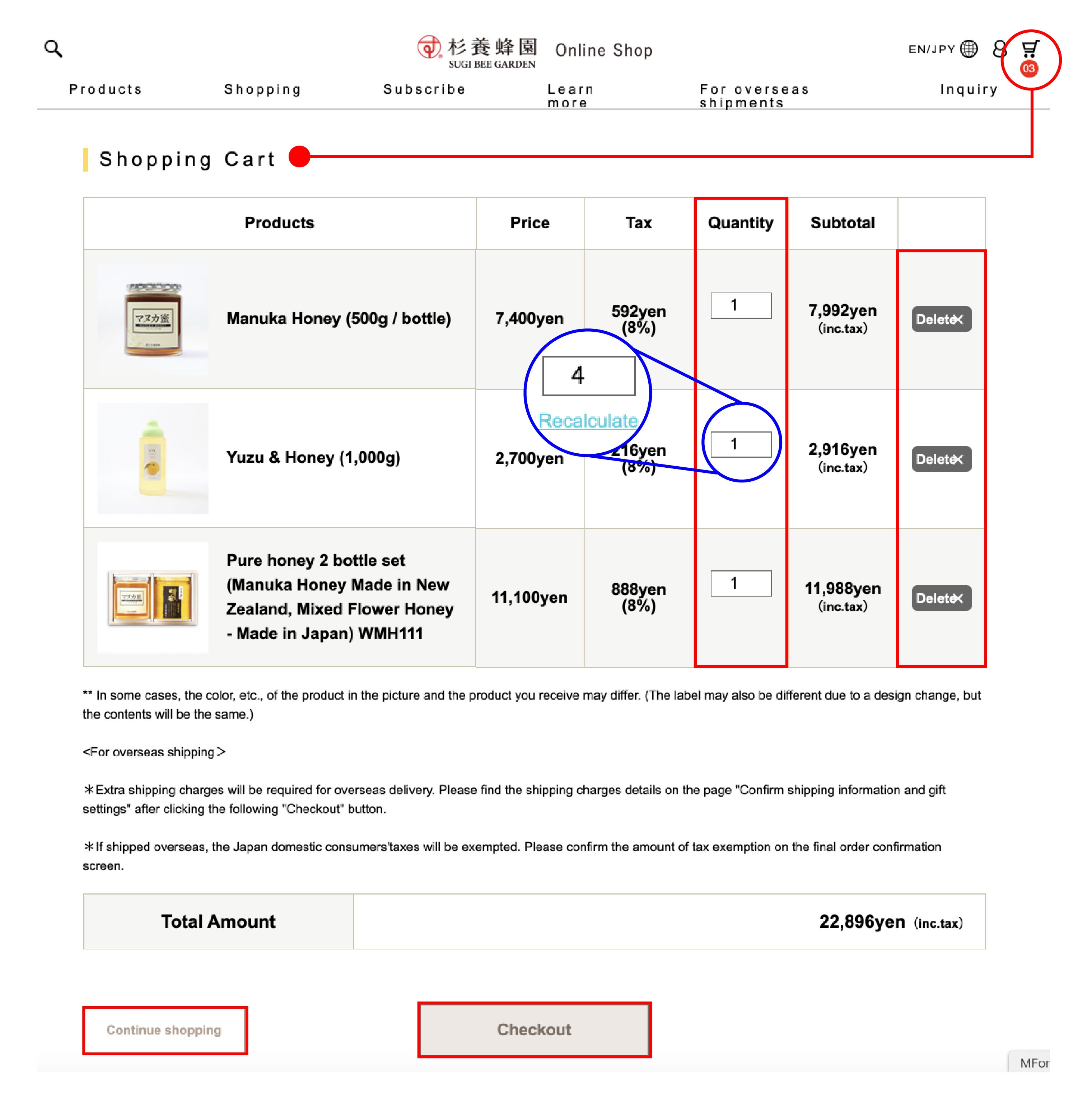 4.Enter purchaser and delivery information
Select【Set delivery information】 and enter your delivery address on the next page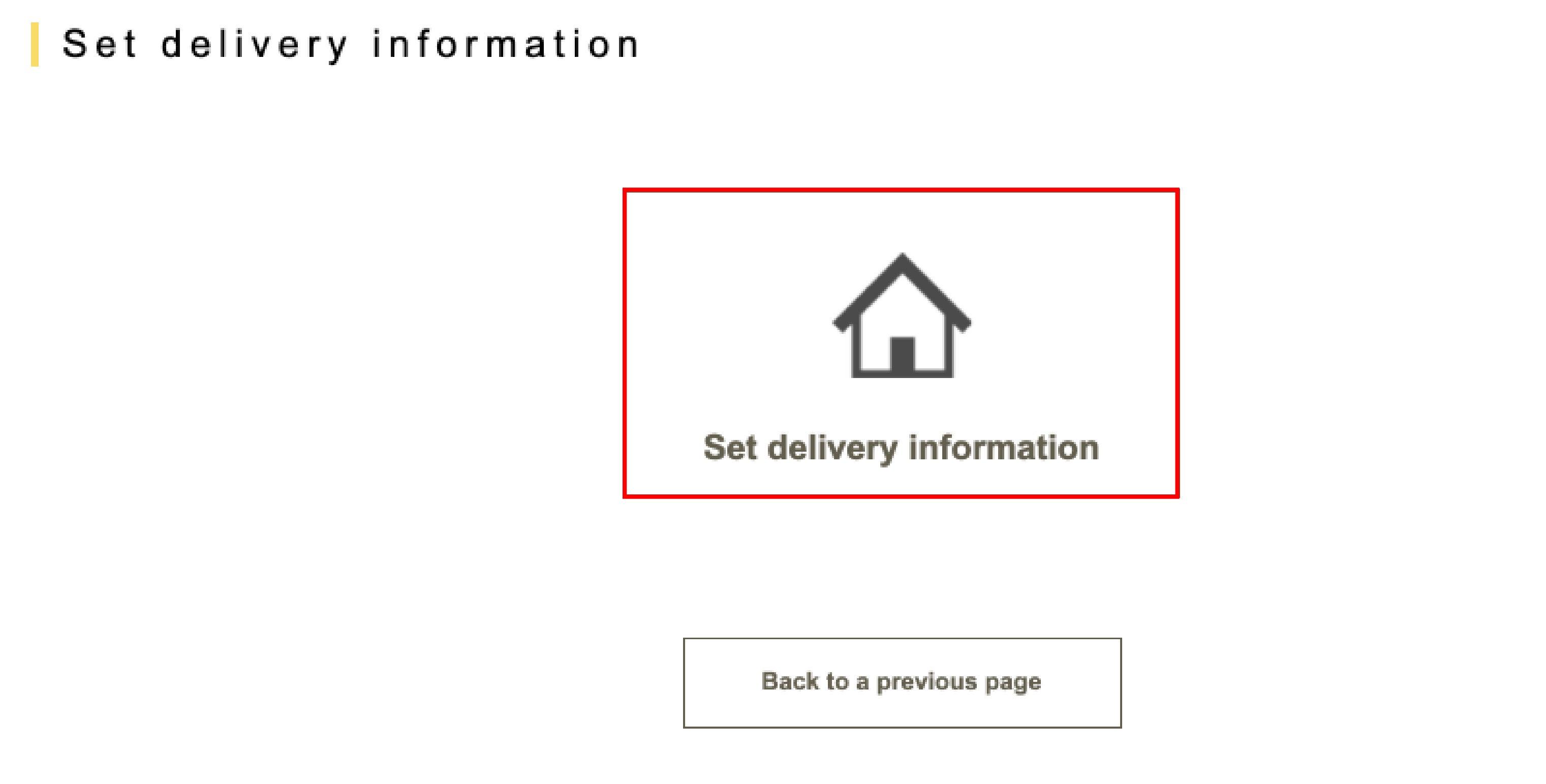 A)If you are already a member and have logged in, information will be displayed fillen in.
For a recorded address, select it from the pop-up window and press【set】. The selected address will be displayed in the [1 out of 1 items] area.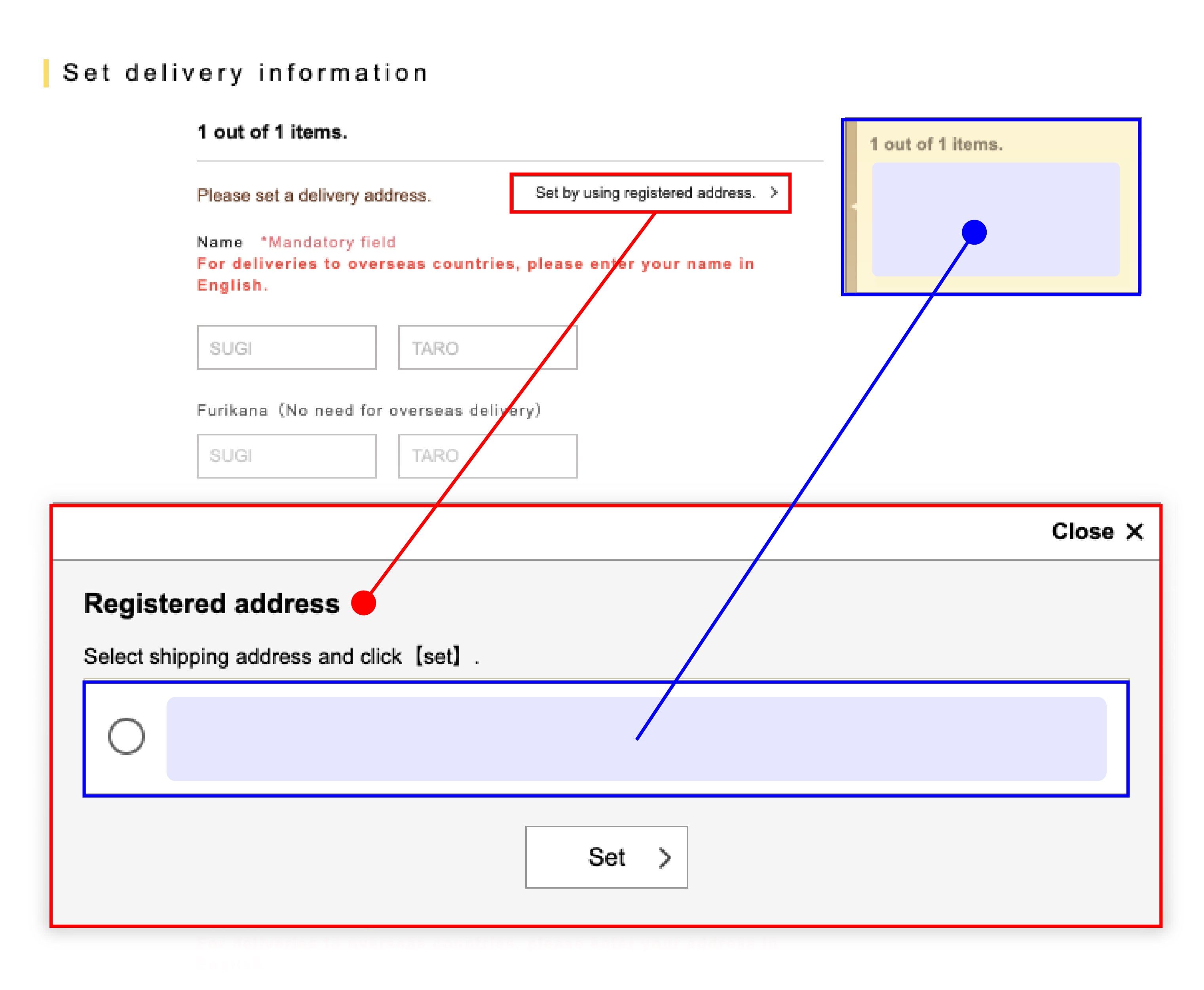 B)If you have not registered any address before, please fill in the necessary information and press [Set delivery address].
※Checking the【Register delivery address】box to register the delivery address makes future shopping easier.

If you are already a member and have not logged in, please firstly log in and then proceed shopping
*If you are a fisrt time online customer, and want to register a membership, please create an online membership account before shopping.
Sign up so that next orders will become convenient and you can receive various membership benefits.
5.About shipping information and gift settings
Shipping information: (Blue frame)

Confirm the shipping method, shipping charges and shipping date at the page.
For domestic shipping, you can specify delivery dates and timeslot. For international shipping, as shipping dates are subjected to weather or traffic, we are sorry that date and time specified service will not be available for international shipping.

If you would like to change the gift wrapping and shopping bag settings, please click "Gift settings"(Red frame) to set up.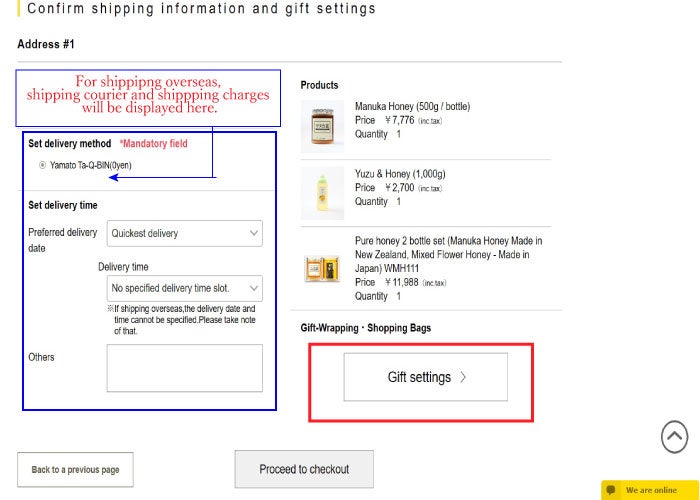 Choose gift-wrapping paper. If you just need shopping bag, then please choose shopping bag.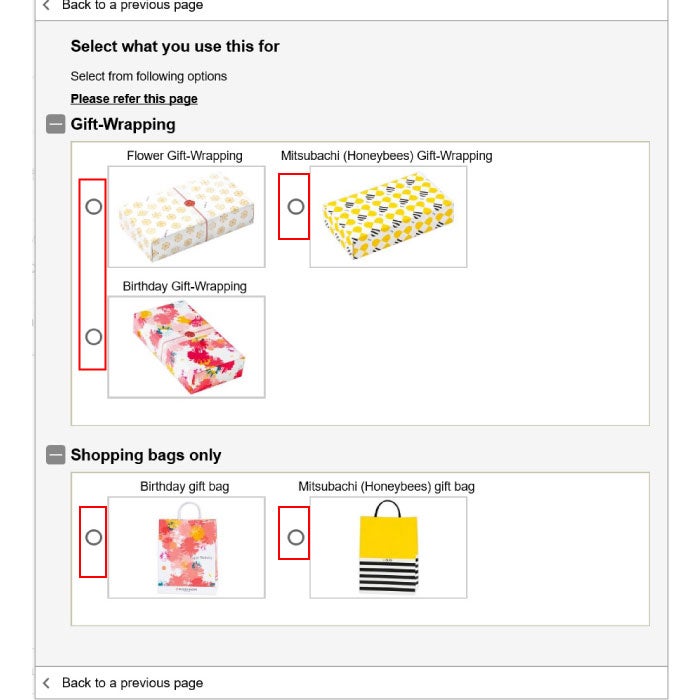 Choose to wrap all items or some item(s). You can leave a comment if you have special requests on gift wrapping.
Click the "Order shopping bag" to choose shopping bags (if necessary, 20 yen will be charges for each shopping bag. ).

The total price for shopping bags will be shown instantly at the shopping bag page.
If there is no problem, please click "Confirm" .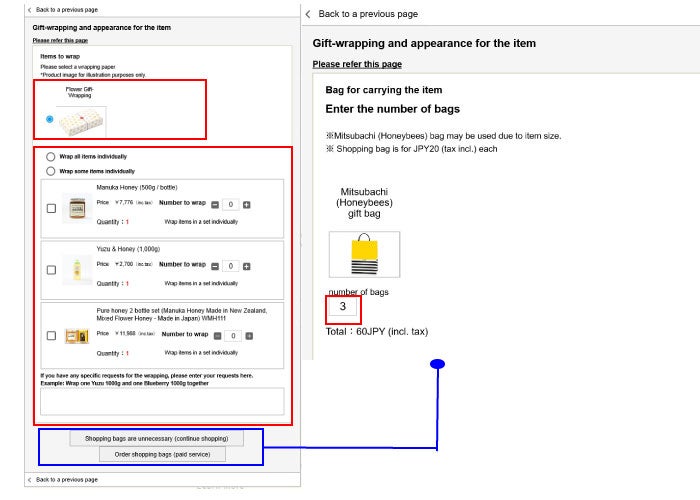 Confirm your products and gift-wrapping details.
If there is no problem, click "Proceed to checkout".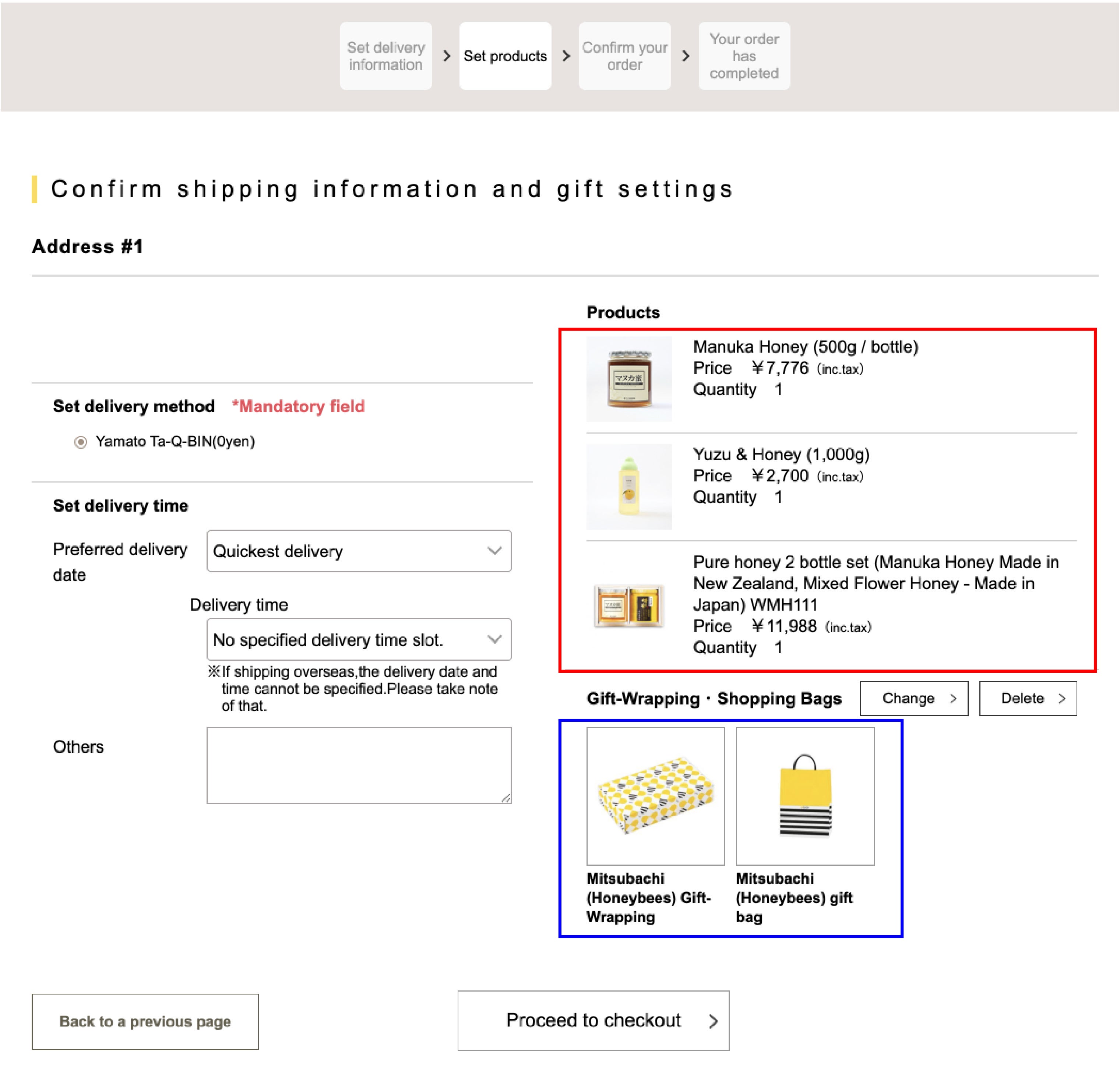 6.Select payment method
Select your preferred payment method after setting delivery method. A gift can be selected for order amount over 10,800 yen (tax included). Click [Confirm your order] to proceed.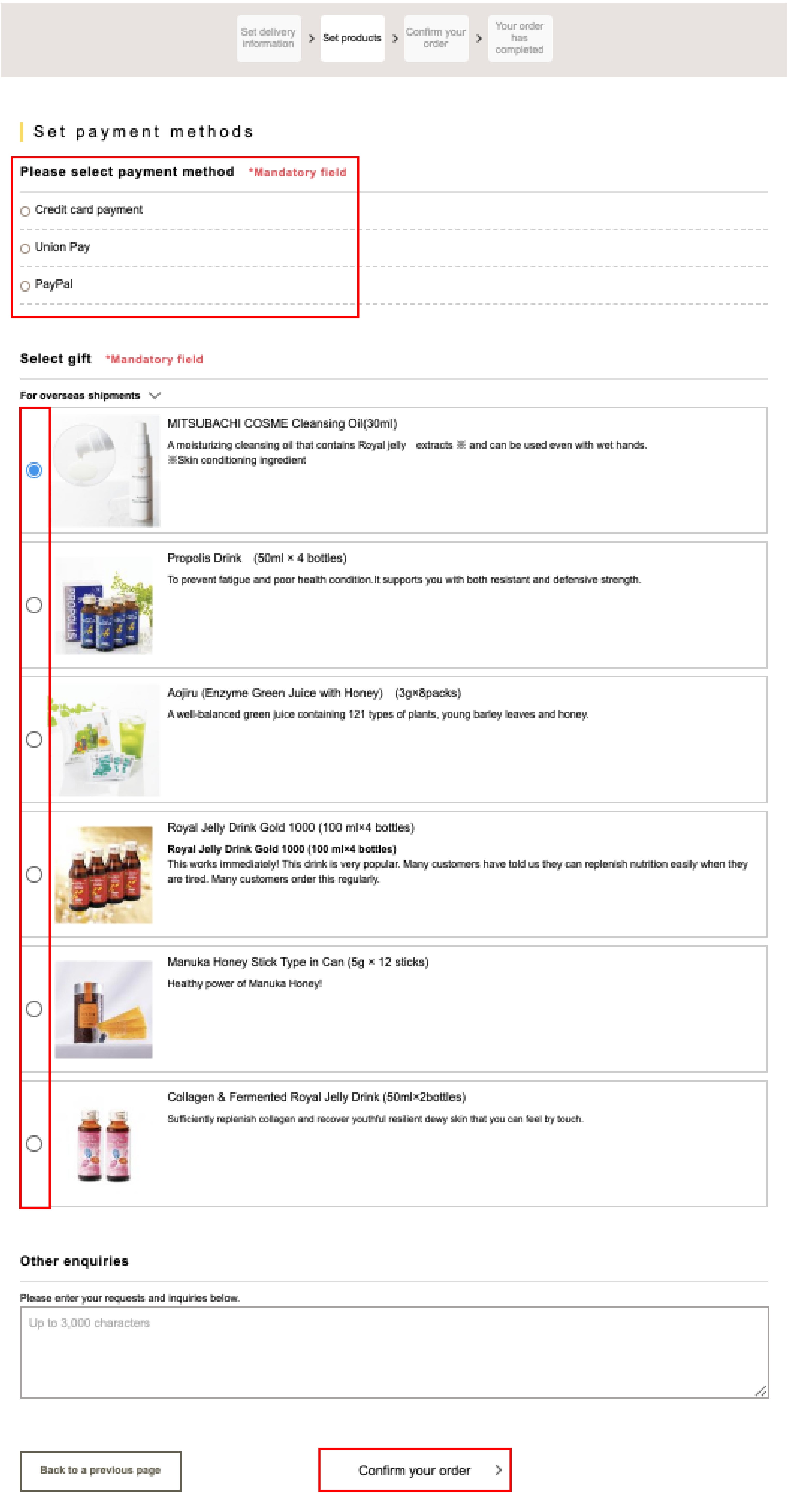 * For first time customers, select payment methods from following options.
  ・Credit Card
  ・Union Pay
  ・PayPal
  ・PayPay(for domestic delivery only)
For returning to the shopping cart page, click the 【Back to a previous page】 button at the bottom of the screen. Please do not use the back button of your browser.
7.Confirm order
Confirms details of the order
On this page, the total amount of shipping and processing fees will be displayed. Confirm that all information entered is accurate. For any changes, please click [Change >] in the order details of each delivery address.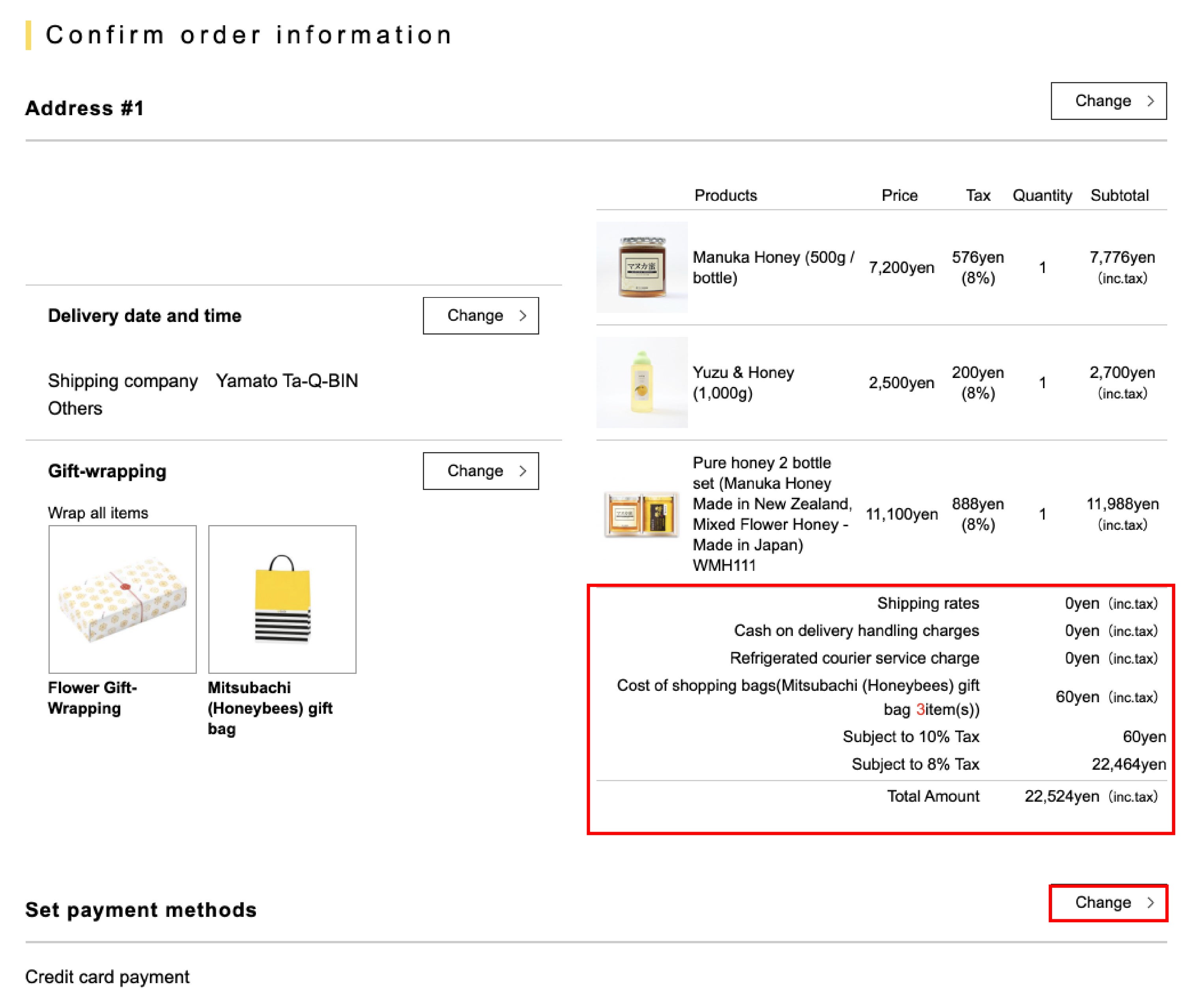 If there are no order changes, click the button at the bottom of the page. If credit card payment is selected, 【Proceed to the credit card payment screen】 button will be displayed. For other payment methods, 【Proceed to checkout】 button will be displayed. An order confirmation email will be sent automatically to your registered e-mail address.