Manuka Honey with 3% Fresh Royal Jelly Stick Type (5g×90sticks)
[Members only] Extra Promotion!
Synergistic powers of manuka and royal jelly!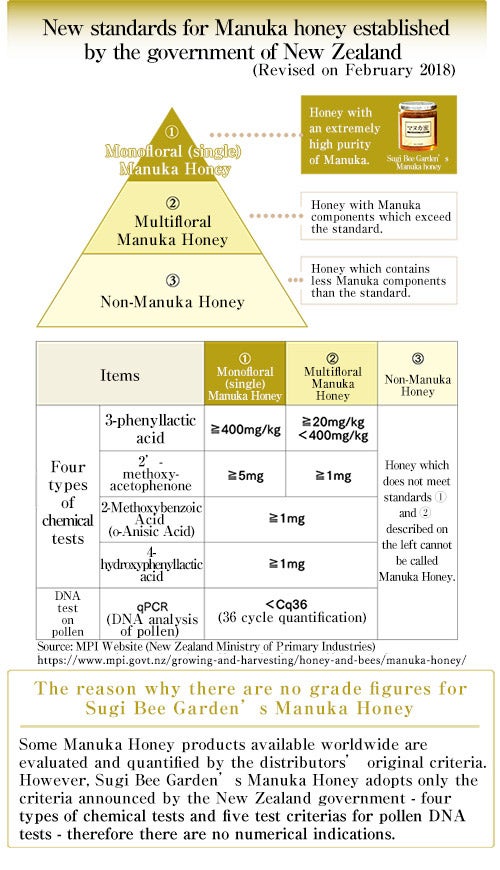 Manuka Honey with Fresh Royal Jelly is Sugi Bee Garden's original product, which has a combination of the miraculous honey, manuka honey and the queen of healthy foods, royal jelly.
Royal jelly contains decenoic acid, which is a unique component of royal jelly, and about 40 kinds of nutrition such as the substance similar to parotin called the youth hormone, in a balanced manner.
Please take advantage of the rich combination of manuka honey and royal jelly, in which we have massive confidence, in order to keep your youth.
Precautions
*Honey is a natural product. Please do not feed to infants below 1 year old.

*Please check the ingredients and avoid if you have allergies such as asthma or food allergies.

*Honey may crystallize. You may enjoy it as it is.

*At high temperatures, quality changes and film deformation may occur.

*Thank you for your understanding that we do not accept any returns after the expiration date or after opening the product.

*Please follow your municipal's guidelines on waste segregation when throwing it out.

*Best before: 12 months from production
Ingredients
HONEY (MADE IN NEW ZEALAND), RAW ROYAL JELLY(MADE IN TAIWAN)
Nutrition facts
Nutrition facts (per 100 g):
Energy 327kcal, Protein 0.8g , Fat 0g, Carbohydrates 80.9g, Sodium 2.7g(salt equivalent 0.01g)
Allergy Information
N/A
*Please check ingredients. If you have food allergies or asthma, please do not take this products.
- RELATED ITEM -
Related items
alert_msg