Manuka Honey that has been the focus of attention recently has been blended with Propolis.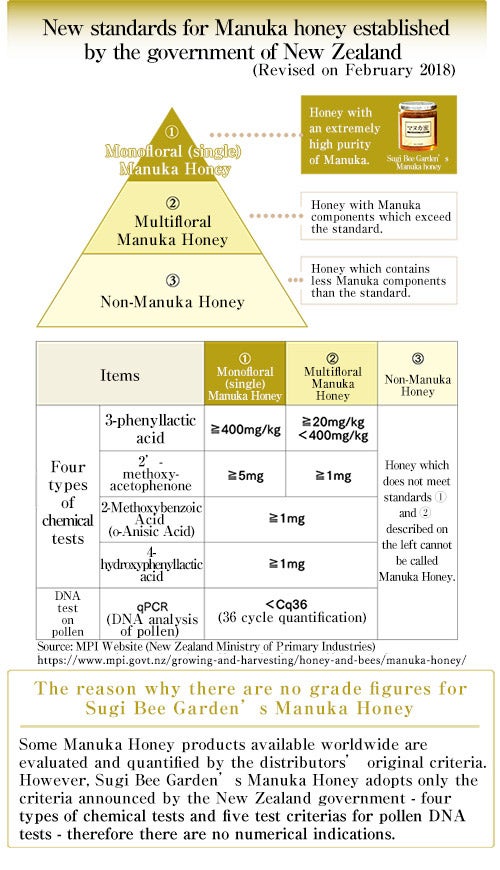 Sugi Bee Garden's "Manuka Honey", the top ranked monofloral Manuka honey, is popular among many customers now comes with the addition of "Propolis".
Be sure to try out this honey as part of your daily health routine.
Product characteristics
This is a luxurious combination of "Propolis" and "Manuka Honey" that only we can produce.
In contrast with Manuka Honey, there is 2.4% of Propolis contained.
Pure propolis
Propolis protects beehives.
Propolis is made by honeybees from buds or resin from baccharis trees native to Brazil. It contains useful ingredients such as natural flavonoids, vitamins, minerals, and more.
How to take
Please take roughly 2-3 spoon-sized servings every day.。
Precautions
*Honey is a natural product. Please do not feed to infants below 1 year old.
* Honey may crystallize. You can enjoy it as it is."
* Please check the ingredients before eating, and do not consume if you have food allergies. Also, please refrain from using it if you think it does not agree with you.
*Please note that if the container and cap are impacted or laid on their side for storage, it may be damaged or leak honey.
* Please note that we cannot accept returns after the best before date or after opening the product.
*Best before: 12 months from production
Ingredients
Manuka Honey (MADE IN NEW ZEALAND), Propolis Extract
Nutrition facts
Nutrition facts (per 100 g):
Energy 325kcal, Protein 0.3g , Fat 0.1g, Carbohydrates 80.8g, Sodium 23.7g(salt equivalent 0.06g)
Allergy Information
N/A
- RELATED ITEM -
Related items
alert_msg