Manuka Honey with 3% Fresh Royal Jelly (500g/bottle)
[Members only] Extra Promotion!!
Synergistic powers of manuka and royal jelly!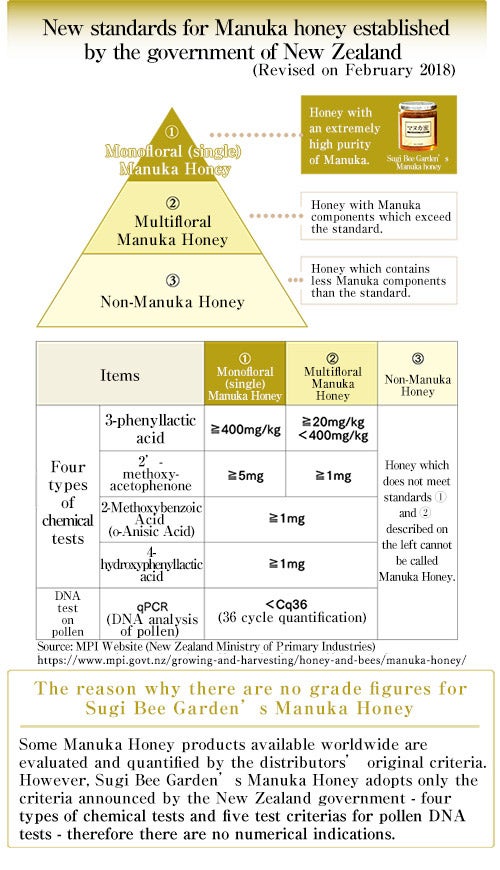 Manuka Honey with Fresh Royal Jelly is Sugi Bee Garden's original product, which has a combination of the miraculous honey, manuka honey and the queen of healthy foods, royal jelly.
Royal jelly contains decenoic acid, which is a unique component of royal jelly, and about 40 kinds of nutrition such as the substance similar to parotin called the youth hormone, in a balanced manner.
Please take advantage of the rich combination of manuka honey and royal jelly, in which we have massive confidence, in order to keep your youth.
Precautions
*Honey is a natural product. Please do not feed to infants below 1 year old.

*Honey may crystallize. You may enjoy it as it is.

*Please check the ingredients and avoid if you have allergies such as asthma or food allergies. Also, please refrain from using this products if you think it does not agree with you.

*Please be careful that if the container or cap is impacted or laid on its side for storage, it may cause damage or leakage of honey.

*Thank you for your understanding that we do not accept any returns after the expiration date or after opening the product.

*Please follow your municipal's guidelines on waste segregation when throwing it out.

*Bottle (Container): glass Cap: steel
Swizzle stick for product
This item comes with a plastic swizzle stick.
If you do not need it, please let us know in the "Other Inquiries" column when placing your order.
Ingredients
HONEY (MADE IN NEW ZEALAND), RAW ROYAL JELLY(MADE IN TAIWAN)
Nutrition facts
Nutrition facts (per 100 g):
Energy 327kcal, Protein 0.8g , Fat 0g, Carbohydrates 80.9g, Sodium 2.7g(salt equivalent 0.01g)
Allergy Information
N/A
*Please check ingredients. If you have food allergies or asthma, please do not take this products.
- RELATED ITEM -
Related items
alert_msg