Collagen & Fermented Royal Jelly Drink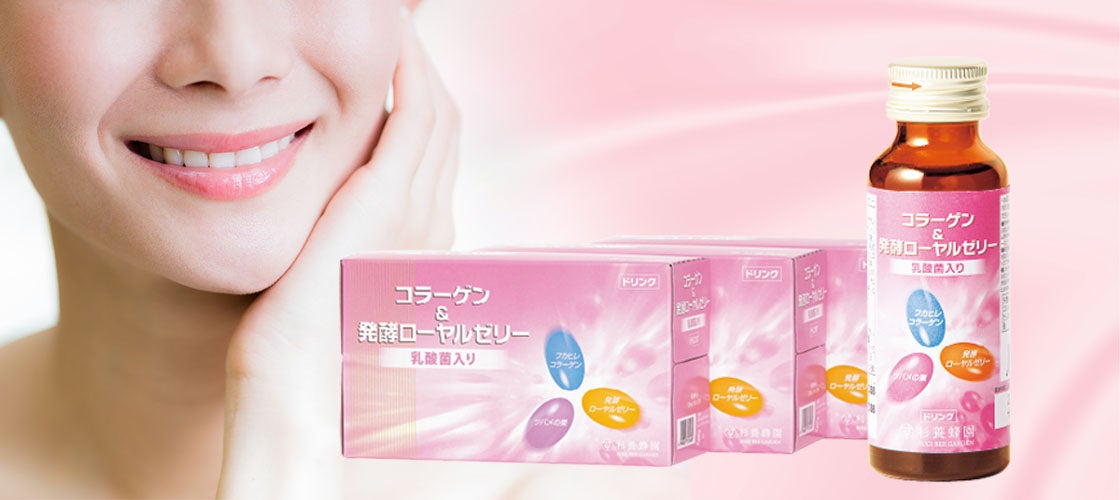 Makeup sits better the next morning.
For women who want to be beautiful regardless of age, high-quality collagen and Sugi Bee Garden's original fermented royal jelly support beauty from inside the body.
We hold a production patent for fermented royal jelly!
By collaborating with the Laboratory of Presymptomatic Medical Pharmacology at Faculty of Pharmaceutical Sciences, Sojo University, we have developed fermented royal jelly with good absorption effect to improve the intestinal environment importantly for beauty and health.
Our unique extracting method is patented for its process.
Collagen & Fermented Royal Jelly Drink Extra Volume Promotion
Aiming for beautiful skin unaffected by winter dryness
Contains lactic acid bacteria (strain H61) to increase moisturization.
Buy a promotion item, get 6 extra bottles per 30 bottles purchase.
※Free gift to be shipped overseas is "18 tablets of Royal Jelly Gold" only.
Promotion period: Oct. 16th 2023 - Dec. 31st 2023