Home >
Sautéed fish with Lemon&Honey Ratatouille veggies
Sautéed fish with Lemon&Honey Ratatouille veggies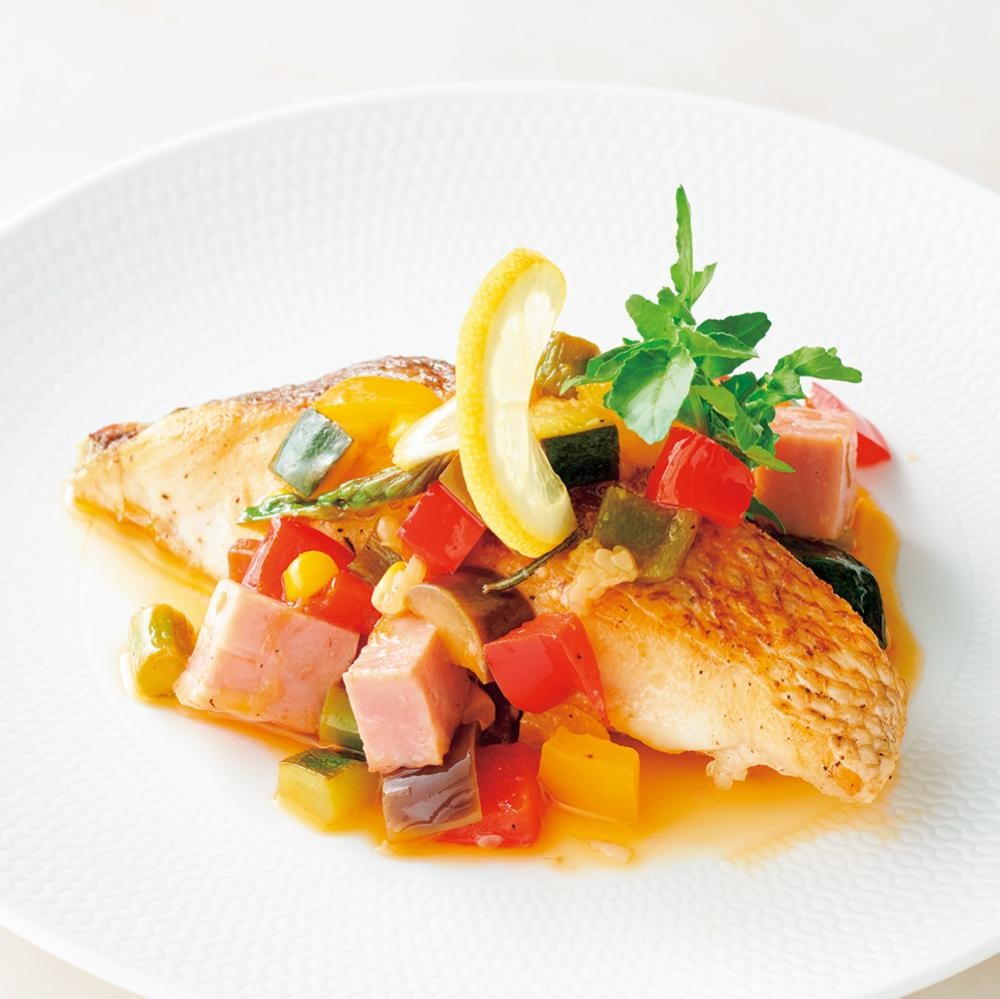 Ingredients (for 2people)
Sea bream fillet  2 Fillets

Butter 10 grams

Cherry tomatoes 4 pieces

Garlic 2 cloves

Salt Pepper One pinch

Flour as appropriate

Olive oil 100ml

Lemon & Honey 1 tablespoon

Eggplant 1 piece

Bell peppers (red & yellow) 1 each

Salt 1 teaspoon

Rosemary 1 sprig

Green bell pepper 3 pieces

Asparagus 3 pieces

Black pepper as appropriate
Bacon slab 60 grams

Corn half size
How to cook:
1Peel garlic cloves and crush with back of kitchen knife.Use kitchen knife to remove corn from the cob by shaving kernels away in thick vertical strokes.Cut cherry tomatoes into quarters. Dice bacon and the rest of the veggies together in 1cm chunks.

2Add crushed garlic and olive oil to a large, thick pot and cook over low heat to slowly bring out an aroma. Add bacon and continue cooking.

3Add all the other veggies except the cherry tomatoes. Add Lemon & Honey and salt,and rosemary if on hand, then cover with lid and let gently simmer until the veggies are cooked through.


4Add tomatoes, and stew for a short time,season with salt and pepper to taste, then let cool.


5For the seam bream fillet, sprinkle with salt and pepper and pat with flour.Add to buttered and heated frying pan, and fry until the skin-side of fillet is crispy.Fry both sides, then transfer to dish. Cover with Lemon & Honey ratatouille to serve.