Home >
Simmered chicken and daikon radish
Simmered chicken and daikon radish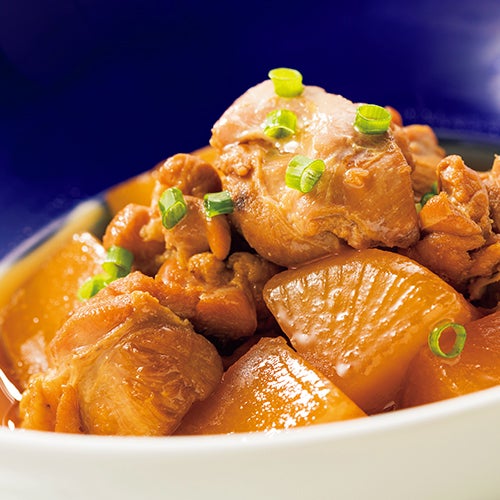 Ingredients (for 4people)
Chicken thighs

400g

Daikon radish

1piece

Ginger

1piece

Cooking oil

as appropriate

Chicken stock

【Combined seasoning】

100ML

Cooking sake

【Combined seasoning】

135ML

Soy sauce

【Combined seasoning】

100ML

Honey and Apple Vinegar

【Combined seasoning】

100ML
How to cook:
1Slice the chicken thighs into bite size chunks.Peel and thinly slice the ginger.
Peel the daikon radish, cut it into quarter slices 3 cm in length, and parboil it in water used to wash rice until it is transparent.
2Heat vegetable oil in a pan, add the chicken and lightly saute.
3Once it has a roasted color, add in the daikon radish to saute together, and thoroughly mix with the oil.
4Add the combined seasoning and ginger, cover it with parchment paper or similar, and simmer until the flavor has soaked into the daikon radish.
5 Take it off the heat and let it rest, allowing the flavor to saturate as it cools to completion.